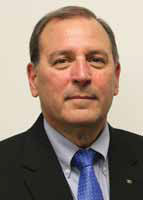 Message from our Supreme President
by Michael J. Horvath



I know the summer of 2022 has begun with the longer days of sunlight and the warmer, hotter, weather. What we have waited for unfortunately will change on June 21st, the official day summer begins, the days will begin to get shorter. So let us soak up as much fun outside that we can. Whatever you do, enjoy the summer fun with family and friends.

The 76th International Bowling tournament was finally held, May 13-14, 2022, at the Brookgate Lanes in Brookpark, OH. After a three-year delay, the bowling families for the Slovak Catholic Sokol, the Jednota, the Greek Catholic Union and the NSS came together for a weekend of bowling competition.

There were many great scores bowled during the team, double and single events, a 298, a 289, a 278, and many more super scores. Congratulations to all the winners! Most of all, thank you to all who competed and brought back bowling fun from all the fraternals. The official results will be announced by our Director of Sports and Athletics, James C. Matlon.

A big thank you to Slovak Catholic Sokol Supreme Director of Sports and Athletics, James C. Matlon, Supreme Assistant Director of Sports and Athletics, Frank P. Laury, Supreme Assistant Physical Directress, Nancy Kropolinsky, for organizing and working at the tournament.

Congratulations to all our members who are awarded a 2022 Slovak Catholic Sokol Scholarship. The Sokol recognize your academic accomplishments and know the scholarship will help you reach your future goals.

Happy Father's Day to all fathers and men that have the honor of being a father or are father figures. You provide so much to not only your family but to all who reach out to you for help. May your day be blessed and surrounded by family and friends wishing you the best the day can offer. The staff at the Home Office celebrates Flag Day to show the Society's support for the Flag and what it stands for. Let us follow the Home Office's lead and do what we can to display the flag of our nation on Flag Day.

The Supreme Physical Fitness Board has held several meetings to prepare for the upcoming Clinic this July. The Supreme Physical Fitness Board is under new leadership. Brother Martin Degnan has assumed the position of Supreme Physical Director and will work with the other members of the Supreme Physical Fitness Board on organizing the 2022 Clinic and 50th Slet planning. Let us congratulate Brother Degnan and give him the support he needs to organize the Clinic and Slet.

To all fathers of the Slovak Catholic Sokol, Father's Day is a good day to ask yourself, do I have enough insurance to protect my family. If you feel you do not have enough insurance contact our Supreme Secretary, Scott T. Pogorelec, F.I.C. for assistance.

Stay Safe and Healthy,
With God's Blessings to All!
Zdar Boh!!