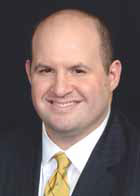 From the desk of the Supreme Secretary
by Scott T. Pogorelec, F.I.C.
MERRY CHRISTMAS

I hope that all our members had a wonderful Thanksgiving Holiday with their friends and family. Now it is on to Christmas! This special time of year gives us the opportunity to enjoy the excitement, color, and emotion of the season, especially through the eyes of the children and grandchildren. This holiday also allows us some time to reflect on the past year and look forward to the New Year ahead.
Over the past 117 years, our family-oriented fraternal activities have begun at our local levels and the ideas for these events have been generated at our Assembly and Wreath meetings. We need to continue to host our local lodge meetings and produce activities that can invigorate our current membership and hopefully, generate interest for potential members. I commend those lodges which continue to host interesting and fun activities. As our local lodges host their annual meetings, now is the time to think and plan for activities in the new year. In this ever-changing world, do not be afraid to think outside the box, but always remember our Sokol values of fraternalism, volunteerism, and service. To encourage such activities, I remind our members that the Home Office will assist an Assembly or Wreath by providing a fi nancial incentive of $100 for two such gatherings a year. The lodge needs to announce the activity in our official publication and follow up with photos and an article of the event. Activity and participation have always been a cornerstone of our society and it needs to continue to be one of our main hallmarks.
I would like to take this opportunity to thank our Supreme President, Michael J. Horvath, our Board of Directors, and all our Supreme Officers for their dedication to the organization over the past year. I would also like to thank our Group Offi - cers, Assembly Officers, and Wreath Officers for their effort and hard work in promoting our wonderful society. It is through your efforts that allows us to thrive as the Slovak Catholic Sokol. I ask you to continue your efforts and look for ways to not only increase membership but increase participation and frequency of your activities. The more people know about our organization, the better!
Speaking of membership, I urge all our members to evaluate not only your personal life insurance needs, but also the needs of your family, and consider purchasing life insurance protection from the Slovak Catholic Sokol. You can help strengthen and secure not only your financial portfolio, but also the organization that has given so much. Let's grow our "Sokol Family" together!
Finally, I would like to thank the unsung heroes of our organization. The Home Office Staff of the Slovak Catholic Sokol works tirelessly for our Society and rarely gets the praise that is justified. I would personally like to thank them all for their hard work and dedication over the past year. You truly are the engine that makes us go!
On behalf of my wife, Maggie, our sons, Reid Thomas and Cole William, and my entire family, I would like to wish all our Sokol and Sokolky a Merry Christmas and a blessed New Year! May God bless you and your families!
Stay safe, stay strong, and STAY POSITIVE!
Zdar Boh!