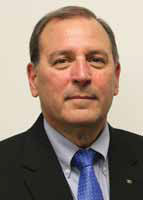 Message from our Supreme President
by Michael J. Horvath



March is a busy month for our Society. Many meetings are planned on a National, Group and Assembly level.

The Society's 1st quarterly meeting is planned for Friday, March 17 and Saturday, March 18, 2023, at the Scranton Hilton, in Scranton, PA, the site of our 34th Quadrennial Convention, August 5-8, 2023. At this meeting the Board will review the Society's 2022 business and set in motion its plans for 2023.

The Supreme Physical Fitness Board continue to make plans for the upcoming 2023 Fraternal events, the 77th International Bowling, May 19-20, 2023 at AMF Bowling lanes, Buffalo, NY, the 68th International Golf Tournament August 18-20, 2023, at the Kensington Golf Club, in Canfield, OH, and the 50th International Slet, July 12-16, 2023, at Kutztown University, Kutztown, PA. All Groups must submit to the Fitness Board their participation numbers for the Board to organize a fantastic 50th International Slet to ensure everyone will have great time.

All Assemblies were sent in January the 34th Quadrennial Convention forms which are due back at the Home Office by March 25, 2023. It is every Assembly's responsibility to hold a meeting to elect their delegates as outlined in the Society's By-Laws.

Members interested in applying for one of the Slovak Catholic Sokol 2023 Scholarships can read the scholarship rules in the Falcon or go on the Society's website to fill out an application. All applications have to be received at the Home Office by March 31, 2023 with all the documentation asked for on the application.

As we see there are deadline for everything planned, and it is necessary for all members, Groups and Assemblies to adhere to them.

We are at the beginning of our Lenten journey; I hope all will follow their path to Easter improving their Faith and doing what they can who need our help.

On March 17th everyone will become Irish as it is St. Patrick's Day and will celebrate everything Irish and since it is on Friday the celebration will be enthusiastic at best. Then on Monday, March 20th, the first day of Spring, we celebrate St Joseph's Day to honor the patron Saint of Workers and the Family while enjoying Polish and Italian cuisines. All we have to do is enjoy and remember it's Lent.

With God's Blessings to All!
Stay Safe and Healthy!
Zdar Boh!!